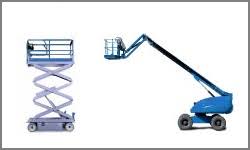 Course aim:
The aim of this MEWPs Instructor course is to provide learners with the knowledge, skills and attitude to train other in the safe operation of MEWPs.
Course objectives:
At the end of this MEWPs Instructor Course learners will be able to:
Explain the legislation related to the use of Mobile Elevated Work Platforms (MEWPS)
List the different categories of MEWPs and explain their features
Identify the hazards associated with the use of MEWPs
Explain Trauma Suspension and outline a Rescue Plan Protocol
Outline the Refuelling and Maintenance Procedures
Outline the Roles & Responsibilities of a Spotter
List the different components on a harness and lanyard
List the inspection criteria for both a harness & a lanyard
Inspect a harness & lanyard
Operate MEWP equipment such as Spider Lifts & Vehicle Mounted.
Deliver a MEWP Course
Course Contents:
Health & Safety Legislation related to MEWPs
Categories of MEWPs
Components & purpose of harnesses and lanyards
Safe use of harnesses & lanyards
MEWPs Risk Assessment
Suspension Trauma
Roles & Responsibilities of a Spotter
Harness & laynard inspection
MEWP operation
MEWP Refuelling & Maintenance
Delivery of a MEWP course
Assessment of a MEWP course
Certification 
In successful completion of this course learners will receive a Qualtec MEWPs Instructor Certificate.
Minimum requirements
Learners should have a good command of English both verbal and written.
Why Qualtec?
Experience. We are delivering instructor course for the last 15 years and have trained over 1,000 learners.
Satisfaction. We get great feedback on this course. Check out the testimonials below. People come away feeling competent to deliver it. We provide a money back guarantee! If you are not satisfied after the first day we will refund the course fee!!!
Price. We are competitively priced. There may be cheaper out there. However we offer value for money.
Competence. All of our trainers are fully qualified to deliver this course.
Resources. On completion of this course learners will be registered on our elearning centre. In this they will have access to our PowerPoint presentation, guides, videos and skills assemment sheets
Progression. On completion of this QQI Level 6 Manual Handling Instructor course learners can progress onto the QQI Level 6 Patient Handling Instructor Course, PHECC FAR Instructor Course, PHECC CFR Instructor Course, Abrasive Wheels Instructor Course, Fire Safety and Fire Marshall Instructor Course, DSE/VDU Asssesor Course and the QQI Level 6 Training Delivery & Evaluation Course.
Location. Tallaght, Co.Dublin, Ireland