Working At Heights Instructor Course Learning Outcomes:
Candidates will learn the necessary skills and knowledge to instruct people in safe Working at Height practises and to qualify them to inspect and certify Personnel Harness & Lanyard Systems to a GA1 Standard (Report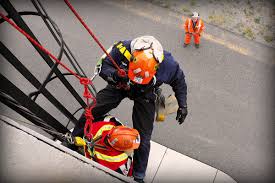 of Thorough Examination).
Legislation in relation to Health & Safety, Working at Heights and Lifting Equipment Inspection and
Certification
Working at Height Definition
Ladder Safety Awareness
Working Safely on Roofs
Working at Height from MEWPS
Mobile Access Towers Safety Awareness
Scaffolding Safety Awareness
Excavations in relation to Working at Height
Fall Arrest and Fall Restraint Systems
Risk Assessments for Working at Height
Suspension Trauma and Rescue Plans
Inspection, Auditing and Certification of Harness / Lanyard Systems to GA1 Standard.
Candidate Requirements: A good understanding of both oral and written English. We highly recommend Candidates have or complete a QQI Level 6 Training Qualification, especially if they intend delivering
instruction or training on a commercial basis.
Duration: This is a one day course for experienced trainers with an existing training qualification.
Certification and Accreditation: On successful completion of this Working at Heights Instructor course Candidates will receive a Working at Height Instructor Certificate and Harness / Lanyard Inspectors Card.
Resource Material: Candidates who successfully complete all practical and theory assessments will be provided with all material required to deliver Working at Heights Instruction and perform Harness /
Lanyard Inspections to a GAI Standard. Material will include PowerPoint, Course Notes, Health & Safety Legislation in relation to Working at Heights and WAH Equipment Certification, Trainee Assessment Sheets,
Inspection Sheets and more.
Post Training Support: We will provide post training support and advice to any or all candidate who may require it. We encourage our participants to actively participate in Working at Height Training Courses that
we ourselves run, to help them gain confidence and experience in delivering their own Working at Height Training and Instruction.
Certification: 5 year Qualtec Certification
Refreshments: Tea, Coffee and Lunch is provided every day on all full day courses.