QQI Level 6 Patient Handling Instructor Course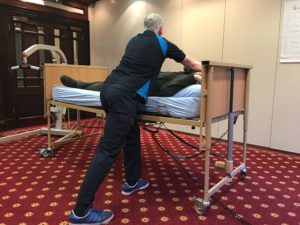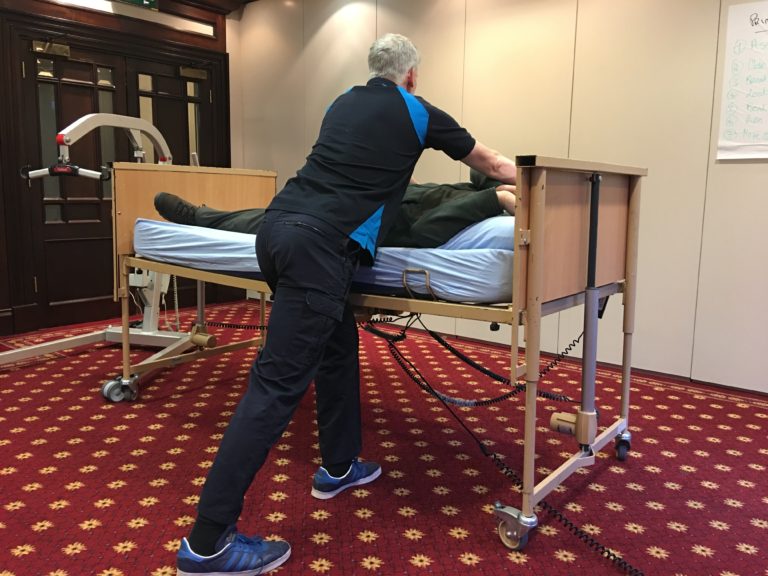 Course aim:
The purpose of this Patient Handling Instructor course is to equip the learner with the knowledge, skills and competence to deliver a Patient Manual Handling Course.
Course objectives:
On completion of this Patient Handling Instructor Course learners will be able to:
Explain the patient handling risk assessment process
Describe a range of controls to avoid and reduce the risk of injury associated with patient handling
Apply the main principles of manual handling to a range of patient handling tasks
Carry out a range of appropriate patient handling techniques to include transferring, supporting, gliding, sliding, rolling, sitting and standing
Analyse the learner's performance of patient handling techniques
Develop patient handling training courses, to include lesson plans
Give effective instruction in practical patient handling techniques
Content
Unit 1 Patient Handling Risk Assessment
Unit 2 Patient Handling Principles and Techniques
Unit 3 Planning and design of People Handling Training courses
Unit 4 Delivery of People Handling Training
Entry requirements
Participants must first complete the QQI Level 6 Manual Handling Instructor course.
Why Qualtec?
Experience. We are delivering this course for the last 15 years and have trained over 1,000 learners. We were one of the first companies to be approved to deliver this course.
Satisfaction. We get great feedback on this course. Check out the testimonials below. People come away feeling competent and confident to deliver it. We provide a money back guarantee! If you are not satisfied after the first day we will refund the course fee!!!
Price. We are competitively priced. There may be cheaper out there. However we offer value for money. Tea and coffee are also included. We offer a 10% discount for payment in advance.
Competence. All of our trainers are fully qualified to deliver this course. Qualtec are a QQI Quality Assured Institution.
Resources. On completion of this course learners will be registered on our elearning center. In this they will have access to our PowerPoint presentation, guides, videos and useful links.
Testimonials:
2017
"Really enjoyed the Patient Handling Instructor Course and I am confident to go out and train." Linda Adriano
"I found all instructors very informative and helpful during the Patient Handling Instructor Course. Their feedback was very helpful and I feel I can improve the other courses I teach, from this one." James Dooley
"I found the Patient Handling Instructor Course very informative and also gained a lot from working within the group. Thank you!" Lillian Redington
"Thoroughly enjoyable. The trainers are very knowledgeable" Maureen Hagin Meade, Irish Red Cross
"Well structured Patient Handling Instructor Course with plenty of time to practice the moving skills." Joanna Murphy, Comfort Keepers
"Very enjoyable, Instructors demonstrated knowledge and experience. Would recommend it to others." Douglas Lanning
"I really enjoyed the Patient Handling Instructor Course, it was very informative and I feel confident that I will be able to correctly teach the people handling moves" Jennifer Myler, Comfort Keepers
"I feel well prepared and I enjoyed the Patient Handling Instructor Course." Catherine Tipple, Irish Homecare
"Very beneficial Patient Handling Instructor Course, practically orientated and engagement of the instructor far exceeded that of any other Patient Handling Instructor Course. Highly recommend this course." Eileen Courtney
"Very beneficial and delighted to have completed it. Great feedback." Siobhan Gray
"Great Patient Handling Instructor Course, Sean and Conor have a natural ability to make things simple and take the jargon out of teaching. Very enjoyable course." Noel Marrey
"Overall an excellent Patient Handling Instructor Course where I have learned lots. Well done, great company with great instructors." Cait Keaveny, Mark Dodd
"Excellent Patient Handling Instructor Course and people." Paul Finn
"Overall an excellent Patient Handling Instructor Course, very beneficial." Louise Keane
I really enjoyed the Patient Handling Instructor Course, well done." Carol McKenna, Stewarts Care LTD
"Very well delivered, really enjoyed the Patient Handling Instructor Course. Good participation by everyone!" Bea Raquela
"Many thanks for an excellent Patient Handling Instructor Course – Fantastic all around!! Best course I attended in a while!" Anne Broderick, Home Instead Senior Care
"Enjoyed the Patient Handling Instructor Course, learnt a lot and the practice was invaluable to reiterate the safe process. Many thanks." Carolyn Whelan, Hermitage Medical Clinic
"Really enjoyed it and learnt a lot. Feel really confident and knowledgeable going back. Thank you." Triona Hogan, Wygram Nursing Home
"Excellent feedback and encouragement given, enjoyed the Patient Handling Instructor Course and I am confident in my ability. Thanks so much." Mary Carley, Wygram Nursing Home
"Would definitely recommend Sean." Kathleen Kidney, St. Josephs Nursing Home
"I felt the instructors were brilliant in informing and delivering positive criticism. I felt at the end of the Patient Handling Instructor Course that I was fully trained and confident in myself." Nancy Poynton, Care About You
"The course was excellent and carried out in a friendly and professional manner." Derek Curley, AMEC Safety Training LTD
"Full hands on, lots of activity." Michael Naughton
"Very good course." Sebastian Charuvila Baby, St. Margarets Centra
"Thank  you Sean and Conor for an enjoyable 3 days and lots of skills learned." Helena Morrisey