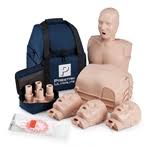 CFR Instructor Course Aim:
The aim of this PHECC CFR Instructor Course is to provide learners with the knowledge, skills and attitude to train others as Cardiac First Responders
Course Objectives:
On completion of this course learners will be able to:
Explain the role of PHECC
Explain the Chain of Survival
Demonstrate Adult and Child CPR
Demonstrate the correct use of an AED
Demonstrate Adult and Child Foreign Body Airway Obstruction
Explain Critical Incident Stress Management
Explain the steps required in dealing with a stroke and heart attack.
Demonstrate the recovery position.
CFR Instructor Course Content
Day 1
• Introduction to PHECC
• The Chain of Survival
• Adult C.P.R./Foreign Body Obstruction Practice (F.B.A.O).
• A.E.D. Skills Practice/ Skills Evaluation
• Infant & Child C.P.R. & F.B.A.O. Skills
• Recovery Position
Day 2
• Heart Attack and Stroke
• Legal & Ethical Issues
• Administration Issues
• Infection Control
• Presentation Skills & Learning Environment
Access:
2 days (Learners must first have successfully completed a basic PHECC CFR course before attending). They must have a reasonable level of English both written and oral.
Location:
This CFR Instructor Course is delivered in the Glenroyal Hotel, Maynooth, Co.Kildare.
Certification:
On completion of the CFR Instructor course,  learners need to assist on two CFR Courses before being finally assessed by Qualtec. Qualtec will try to assist in organising these. However it is the learners' responsibility to try and organise these. Qualtec are a recognised PHECC Institution. Allow 2 days for these assessments.
Course Assessment & Time Commitment 
Your final assessment will involve you teaching CPR. For this assessment you will need to bring your own equipment and student(s).
You will deliver CPR and assess student(s).  Allow 2 hours for this preparation.
Progression:
On successful completion of this CFR Instructor course learners can then progress onto attending our PHECC FAR Instructor Course.
Testimonials:
Excellent course and relevant to all communities. Margaret Dinneen
Well done. Sharon Murphy
Really enjoyed the course. Very easy to learn with Sean as he made it interesting. Anne Marie McCarthy
Excellent course. Very informative. Padraic Nee Aer Arran
Really enjoyed it! Caitlin Steel
Good practical course with good trainer. Paul Horsburgh
A great two day course with plenty of information and role play. Sean is a very calm and straight forward teacher. Margaret Foley
Enjoyed the course. Thank you! Denise Lynam.